Bioswales
Bioswales are landscape elements designed to concentrate or remove silt and pollution from surface runoff water. They consist of a swaled drainage course with gently sloped sides and filled with vegetation.
We already had a wet area and started by smothering the existing non native vegetation with heavy landscape fabric for six months.
We then dug out a ditch in the middle that was about three foot wide and deep.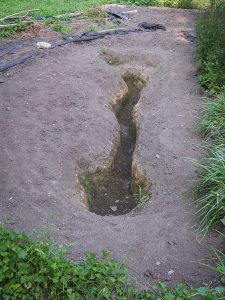 Next we planted moisture loving native plants around the edges of the bioswale , not in the hole that we dug out. We then put layers of newspaper around them to cover the bare soil.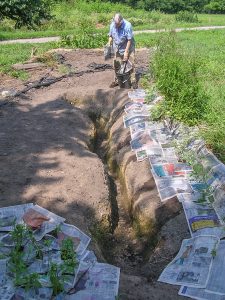 We then mulched the area that had newspaper, just to the edge of where we had dug the swale.
Some of the moisture loving native plants used were :
Obedient Plant – Physostegia virginiana
Culvers Root – Veronicastrum virginicum
Great Blue Lobelia – Lobelia siphilitica
Turtlehead – Chelone glabra
Northern Blue Flag – Iris versicolor
and two shrubs for the back
Meadowsweet – Spirea alba
Swamp Rose – Rosa palustris
This is the first winter after creating the bioswale, it is a great water catchment system.
Our bioswale after three years of growth has become a wonderful habitat for our pollinators.